Quotation templates
IOdoo Sales quotation templates allow salespeople to quickly and easily create tailored quotations for common product or service offerings. This saves time and eliminates the need to create new quotations from scratch each time.
Benefits of using Odoo Sales quotation templates:
Speed: Quotations can be created and sent to customers much faster, without having to re-enter the same information over and over again.
Accuracy: Quotation templates can help to reduce errors by ensuring that all required information is included, and that the quotation is properly formatted.
Consistency: Quotation templates can help to ensure that all quotations have a consistent look and feel, which can help to improve the customer experience


Configuration
Begin by activating the setting in Sales app ‣ Configuration ‣ Settings, and scroll to the Quotations & Orders heading.
In that section, check the box beside the Quotation Templates option. Doing so reveals a new Default Template field, in which a default quotation template can be chosen from a drop-down menu.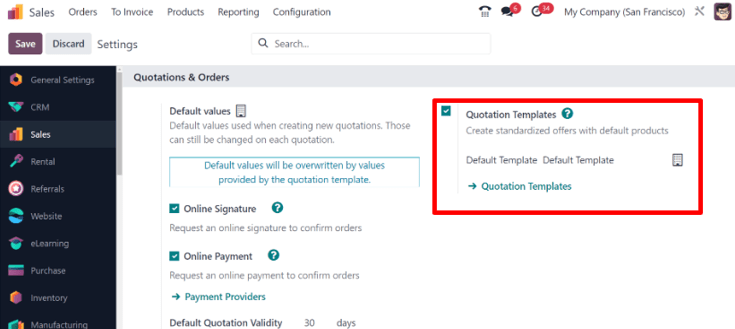 Create Template
How to create an Odoo Sales quotation template:
Go to the Sales app and click on Configuration.
Click on Quotation Templates.
Click on the Create button.
Enter a name for the template and select the product or service offerings that you want to include.
You can also customize the template by adding additional information, such as terms and conditions, payment options, and shipping information.
Once you are finished, click on the Save button.
Use Template
How to use an Odoo Sales quotation template:
Go to the Sales app and click on Quotations.
Click on the Create button.
Select the quotation template that you want to use.
Review the quotation and make any necessary changes.
Once you are finished, click on the Send button to send the quotation to the customer.
Odoo Sales quotation templates are a powerful tool that can help salespeople to save time, improve accuracy, and create consistent quotations.
Design quotation templates
Note:
The following section on designing quotation templates only applies to databases that have the Quotation Builder feature enabled, which is accessible by following the configuration steps above.


In the upper-left corner of the quotation template form, there's a Design Template button. When clicked, Odoo reveals a preview of the quotation template, as it will appear on the front-end of the website, with a Template Header specifying that this content will appear on all quotations using this specific template.

To edit the content, look, and overall design of the quotation template, click the Edit button in the upper-right corner. Doing so reveals a variety of design elements and feature-filled building blocks.






Use quotation templates
When creating a quotation (Sales app ‣ Create), choose a preconfigured template in the Quotation Template field drop-down menu.